How to embed a PDF document into a website so that it becomes an interactive part of the web content and does not have to be downloaded?
PDF is the most common format for a variety of forms and official documents. It is a universal file format that today can be opened virtually by any operating system and device. That is why we often find them for download on the website. But how do I embed a PDF document in a website so that it can be browsed?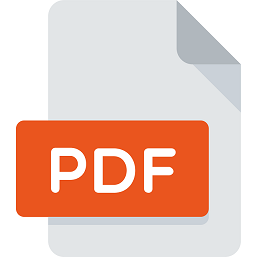 The most common procedure you may encounter is to insert a link to download the PDF document into your site. However, this is too impractical for many reasons and UX experts do not recommend it. If it comes to important information, the visitor should see it on the page without downloading and opening the file.
Embed PDF in pages as images
WordPress is basically unable to embed PDF into a page just like when in comes to pictures and videos. In order to do this you have to reach for a handy plugin for free.
With the plugin, PDFs can be uploaded to the website in the usual way through the media manager and then embedded in the page as an image. The document then adapts to the page design and displays in a browser similar to the simplified Adobe Reader. This allows you to not only skip between pages, but also take advantage of features such as zoom.

The plugin uses JavaScript insertion, so the document is not embedded on the page by any ifram or external service. The file is stored on your web hosting and displayed from it. Auto-fit ensures that your page doesn't fall apart by embedding, and resizes properly on mobile devices.
PDF Embedder teaches WordPress to work with PDF
The free plugin enjoys the best ranking among various PDF Embedders. It is used by hundreds of thousands of pages and its development is actively underway. Support for the latest versions of WordPress is guaranteed.
PDF Embedder can be installed using plugin manager in WordPress CMS:
Click "Plugins" > "Plugin Installation" in the left column of WordPress administration
Search for "PDF Embedder"
Click "Install"
Activate plugin by clicking the "Activate" button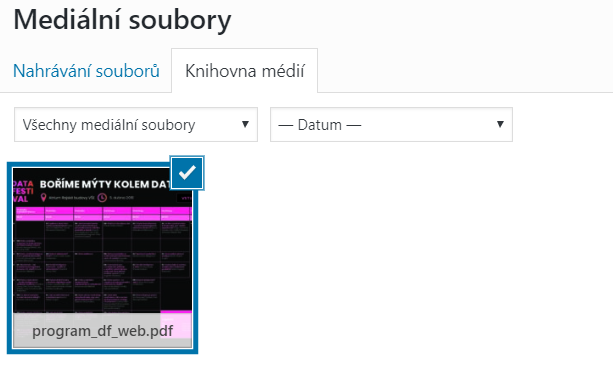 How to embed PDF into the site?
Adding to the website is easy after successful installation. Just click "Media files" and upload PDF. Then click "Insert into post". The shortcode is inserted into the post in the following format:
[pdf-embedder url="https://urlvasehowebu.cz/wp-content/uploads/2019/03/xxx.pdf"]
After saving, the embedded PDF is displayed instead of the code. Hover your mouse over the controls to rotate or zoom in on pages.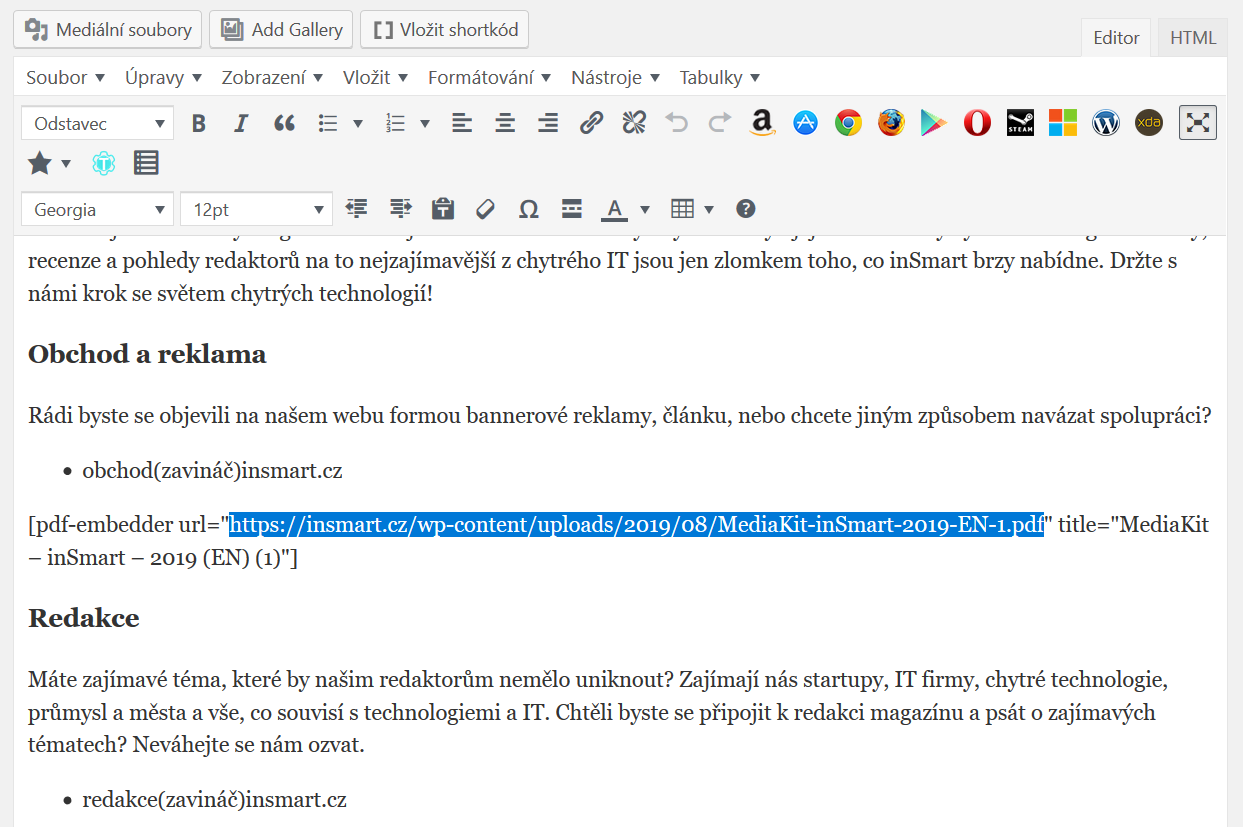 In the plugin settings you can choose whether to show thanks to the authors, whether the controls will be displayed at the top or bottom, etc. You can see an example of using the plugin on the contact page of the inSmart.cz magazine.
In addition, the paid version of the plugin adds the ability to click links in a PDF document and download a file via a button. This can be a replacement of a good old addition of a PDF link to the site.